It's that time of the year again! Everyone's favorite holiday season is almost here and we know you gotta start ticking your gifting list. 😉 To help you shop for amazing gifts, Abenson Holiday Bundles are here!
Whether you're looking to give gifts to your loved ones or yourself, or creating your company's annual Christmas raffle, you'll find a Holiday Bundle that will suit you best.
Happy Bundle
This bundle is perfect for self-gifting or as a large gift for that special someone in your life since you get three awesome items for a highly affordable price.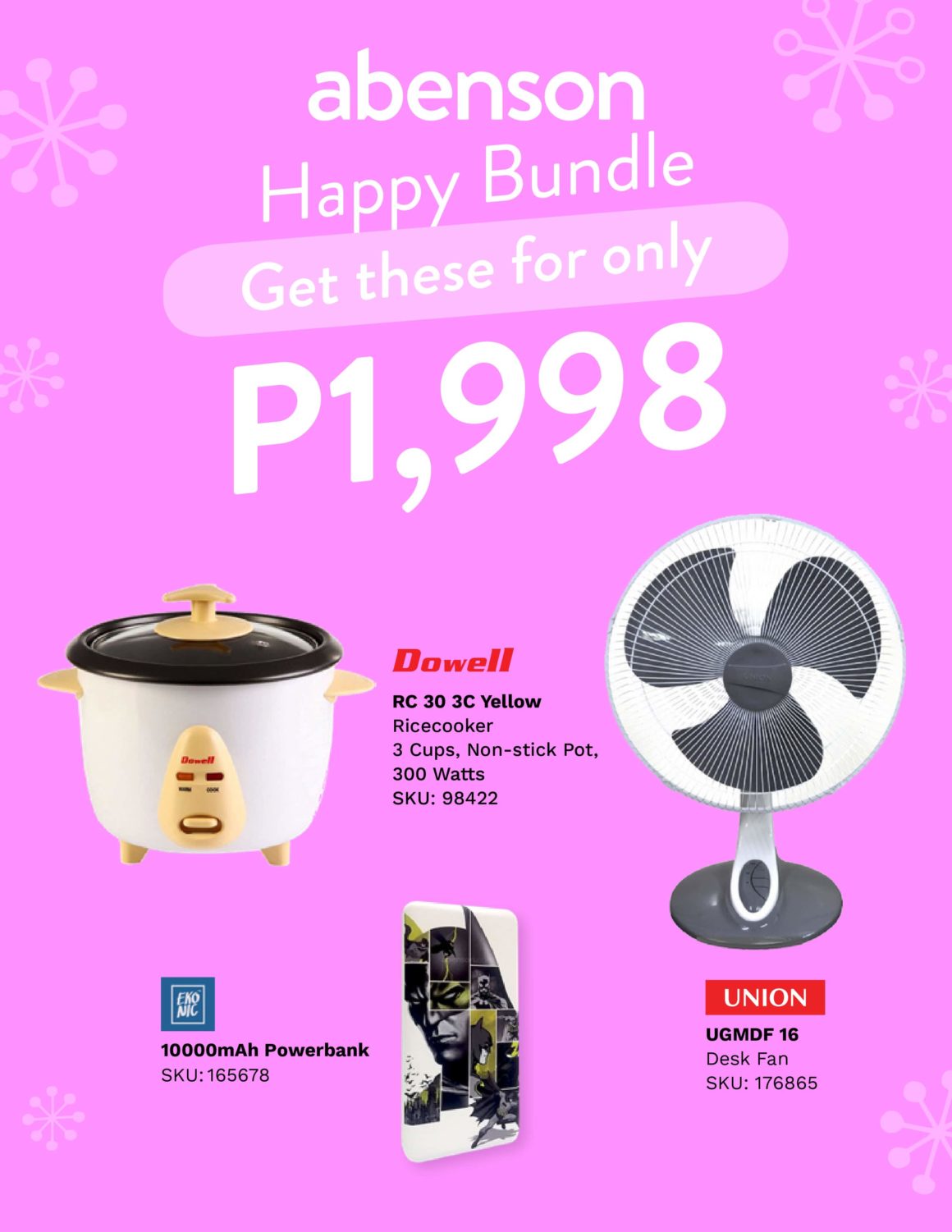 With the Happy Bundle, you get a Dowell Rice Cooker for everyone's daily rice needs, a Union Desk Fan to keep cool while accomplishing work from home tasks, and an Ekonic 10000mAh Power Bank that has an amazing Batman art print which is great for any fan of the Caped Crusader.
Gift Bundle
If you want to grab all of your practical home gifts in a single package, then the Gift Bundle may be for you. There's something for all your loved ones in this affordable package!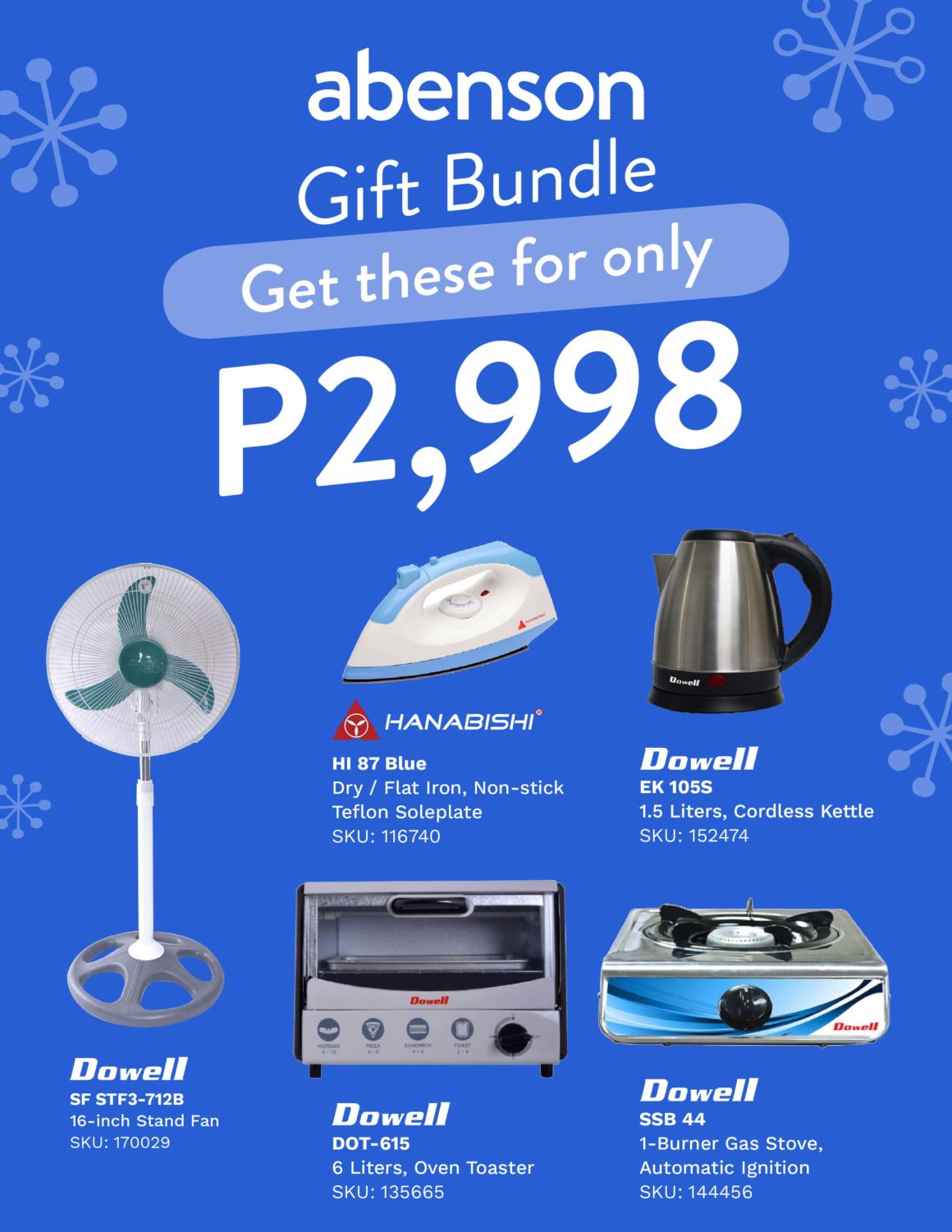 This bundle includes a practical Dowell 16-inch Stand Fan, a Dowell Cordless Kettle which can serve the coffee lover in your life well every morning, a Dowell 1-Burner Gas Stove for the budding chef, a Dowell Oven Toaster for breakfast time, and a modern Hanabishi Flat Iron for those looking to upgrade their old one.
Giveaway Bundle
Christmas is a time of giving and the Giveaway Bundle embodies this excellently. You can find items here that are ideal for your family's Christmas giveaways.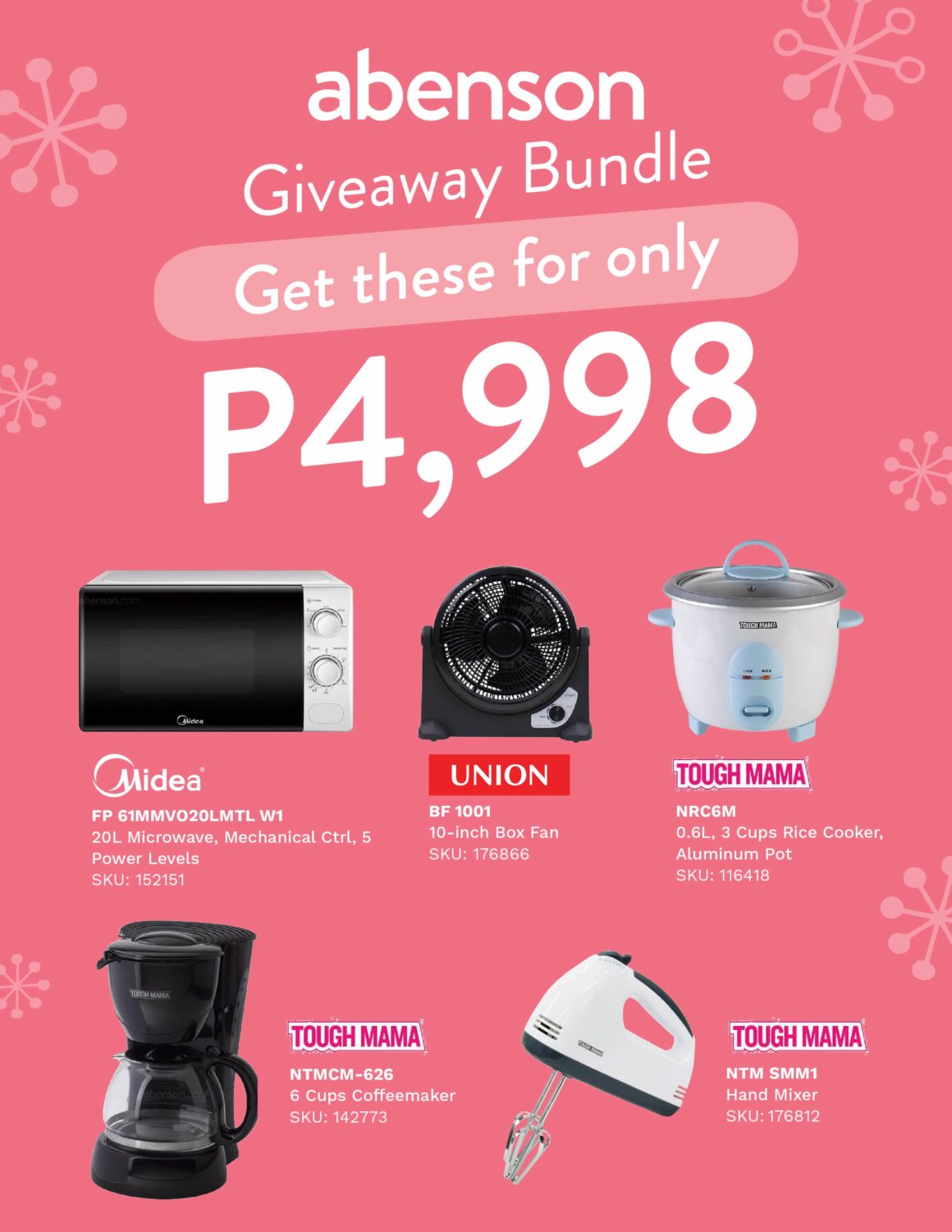 Included is a cost-effective Midea microwave, a space-saving yet powerful Union Box Fan, a Tough Mama Rice Cooker because rice is life, a Tough Mama Hand Mixer to help make delectable Christmas desserts, and a Tough Mama Coffee Maker for yet another coffee lover in your life.
Gadget Bundle
Gadgets are highly popular in this day and age and everyone has their favorites. This bundle is great for gadget lovers in your life.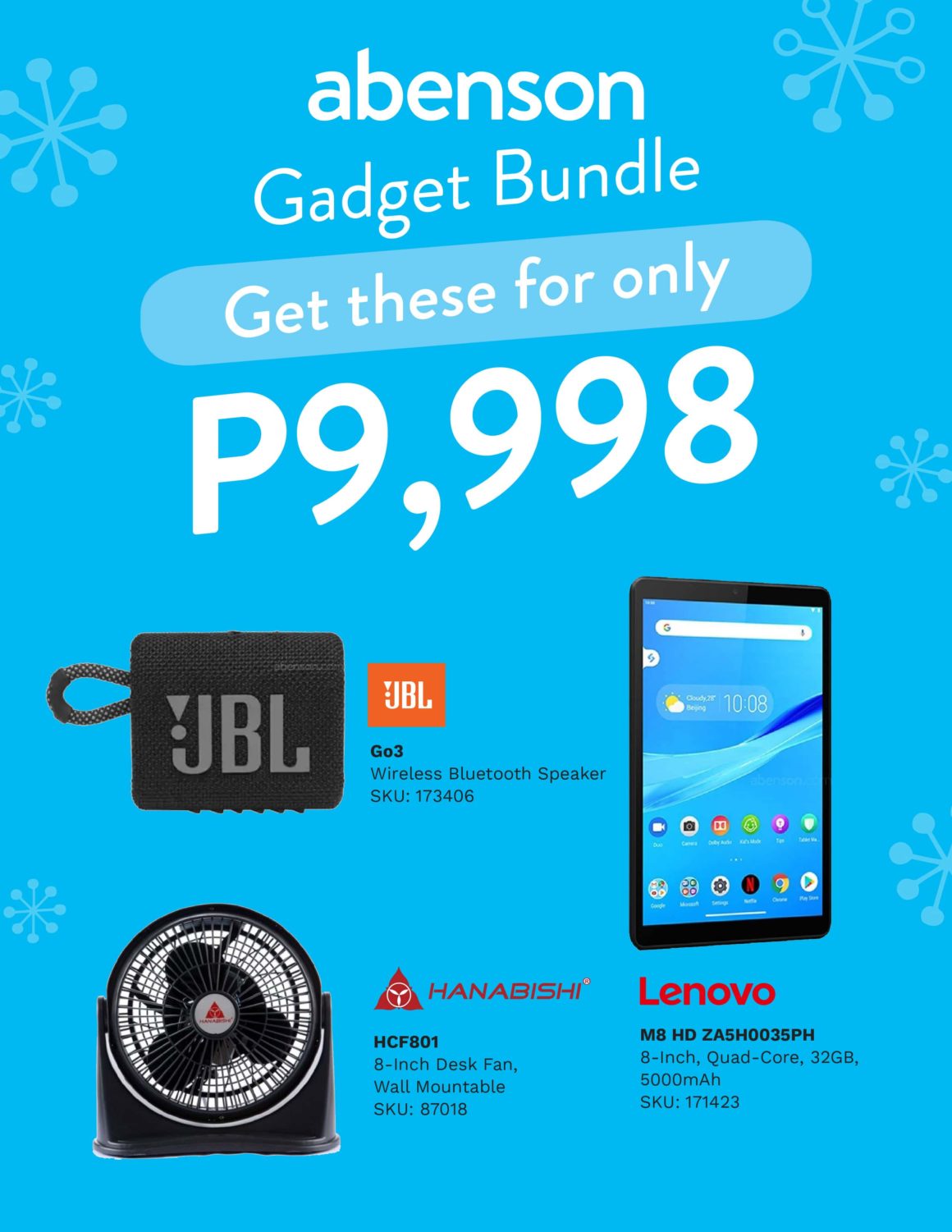 The Gadget Bundle comes with the incredibly popular JBL Go3 Bluetooth Speaker, a unique and wall-mountable Hanabishi Desk Fan, and an impressive Lenovo 8-inch tablet that allows you to surf the web on the go with LTE connectivity.
Raffle Bundle
Many companies have annual Christmas raffles and this Raffle Bundle has everything that you might want to include in yours.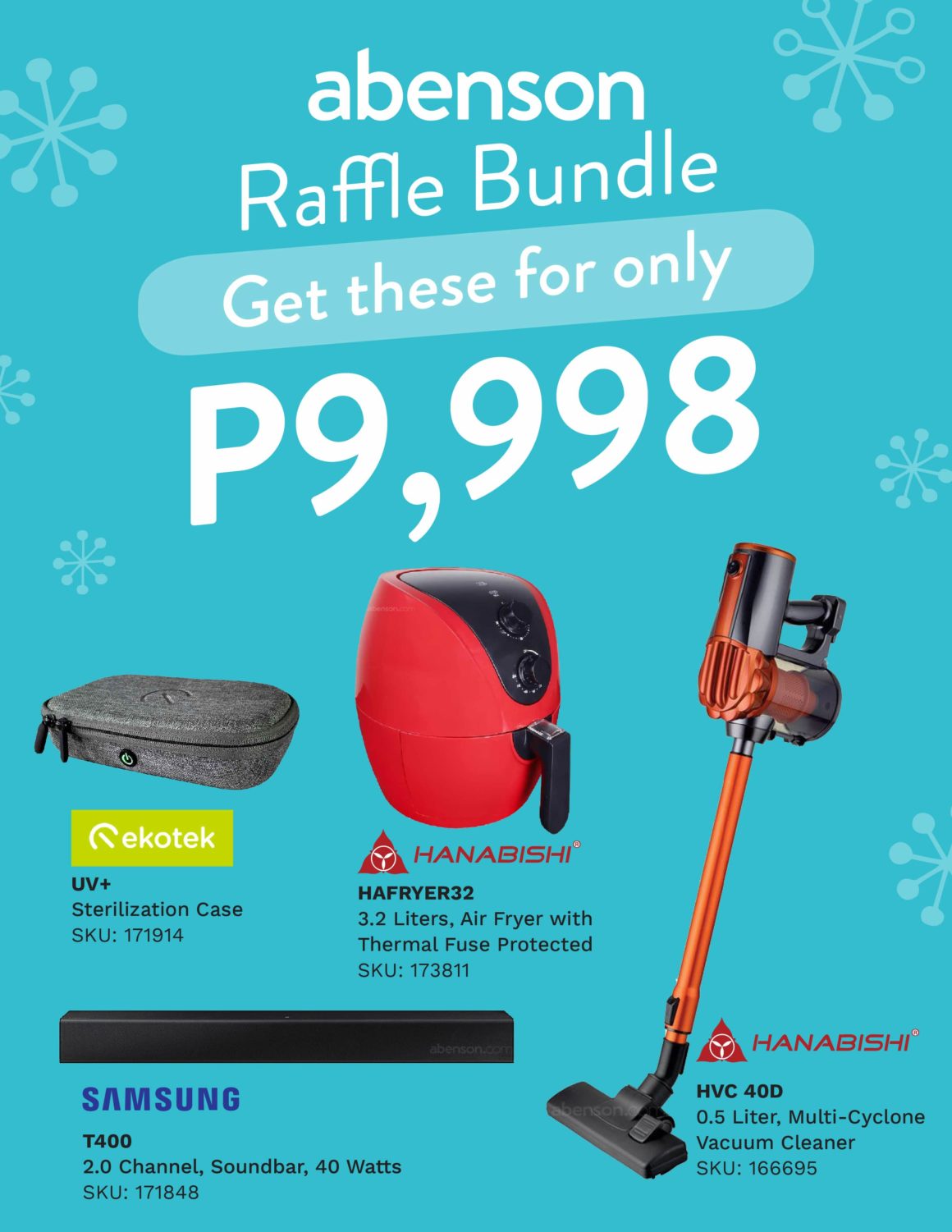 It has an Ekotek UV+ Sterilization case which can sanitize your small gadgets and items, a handy and easy-to-use Hanabishi Multi Cyclone Vacuum Cleaner, a Hanabishi Air Fryer that can create healthier food options, and, for the grand prize, an immersive Samsung 2.0ch Soundbar that upgrades your listening experience in any TV.
Cool Bundle
Even though the "Ber Months" are typically cooler than other times of the year, summer is still just around the corner, so, if you want to prepare in advance then the Cool Bundle is for you.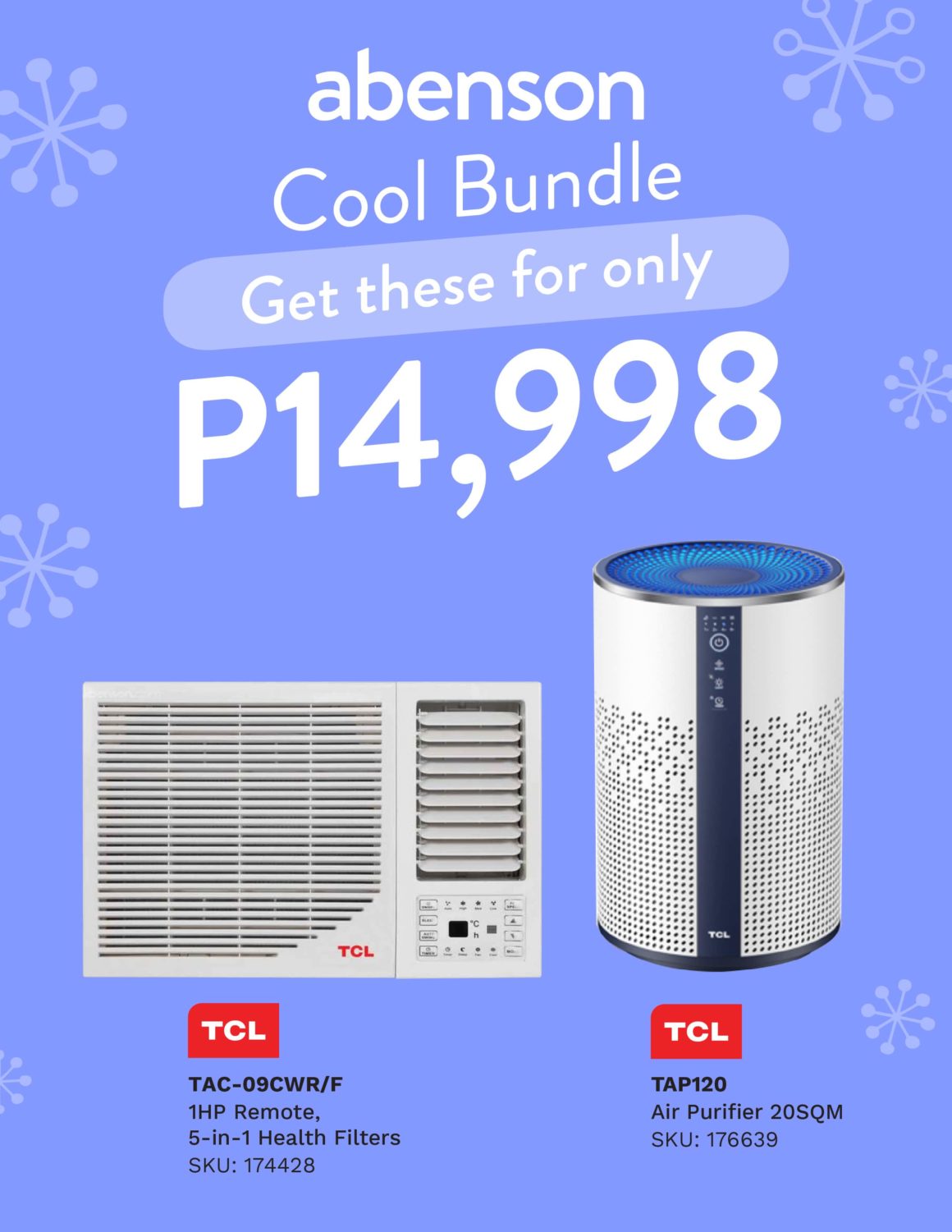 It includes a 1HP TCL Window-Type Air Conditioner that can serve anyone well in a small room and a TCL Air Purifier to keep the air in the room nice and clean at all times.
Homecation Bundle
The Homecation Bundle is for those that love to relax at home and just chill while watching their favorite flicks or listening to a new song.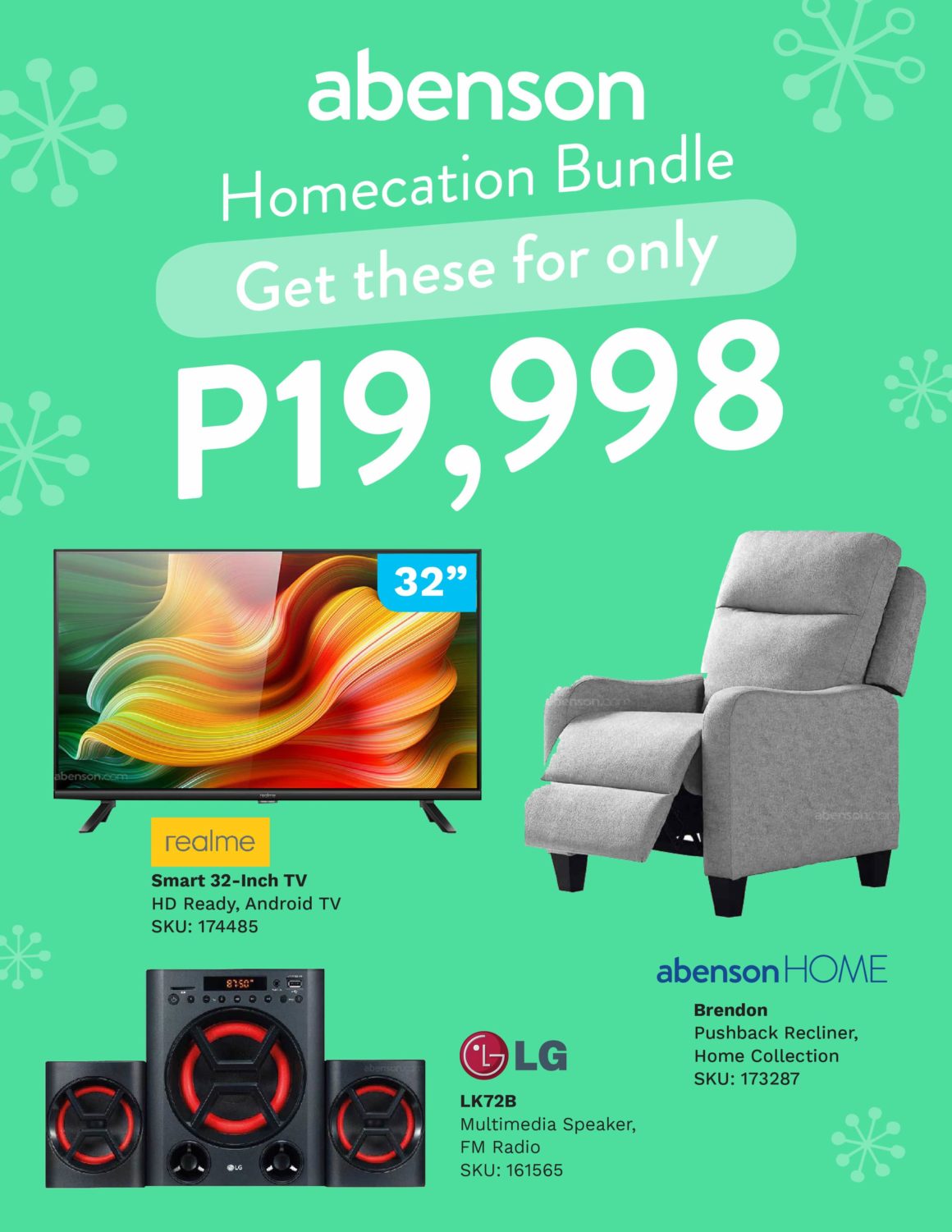 This bundle includes a Realme 32-inch Android TV, an LG Multimedia Speaker System to thoroughly enjoy all the music in your life, and, to top it all off, an unbelievably comfortable Brendon Pushback Recliner.
Buy 4, Get 1
If you want to give similar items to several people, then you'll want to take a close look at these items that are part of our special Buy 4, Get 1 promo.
These curated items include a Bluetooth Speaker, Earphones, Soundbar, an Air Fryer Oven, and even a Karaoke System!
Buy 9, Get 1
Lastly, we have the Buy 9, Get 1 special that is fantastic to pair with the Raffle Bundle for your company — or if you just want to give a ton of people a lot of cool gifts!
You can practically make it rain with Portable Bluetooth Speakers and earphones or be practical and send your friends and family brand new small appliances!
Shop for awesome Holiday Bundles at select Abenson stores. Before visiting your nearest Abenson store, we highly suggest that you inquire first through a call or Viber. Here's a store directory list for your reference: 🚩 abenson.com/open-stores.
You may also shop for these amazing bundles online at abenson.com. Just click on the blue button below to see all available bundles and offers online. 👇 We'll have your Holiday Bundles delivered in no time! 🚚
Promo valid from October 15 to November 30, 2021 only
Disclaimer: Prices on this article are based at the time of publishing. Prices may differ online or in-store and up-to-date prices will reflect at abenson.com.
---
---
Like us on Facebook (fb.com/abensonappliances)
Follow us on Instagram (@abensonph)
Visit our online store at www.abenson.com