Once again, it's that time of year! The most anticipated Christmas season for all is almost approaching, so you better start checking things off your list of gifts. Abenson Holiday Bundles are now available for your wonderful gifts! 🎄🎁
You can choose the ideal Holiday Bundle for you, whether you're planning your company's annual Christmas raffle or looking to send gifts to your loved ones.
Gift Bundle
First on the list is the Gift Bundle for just P1,998!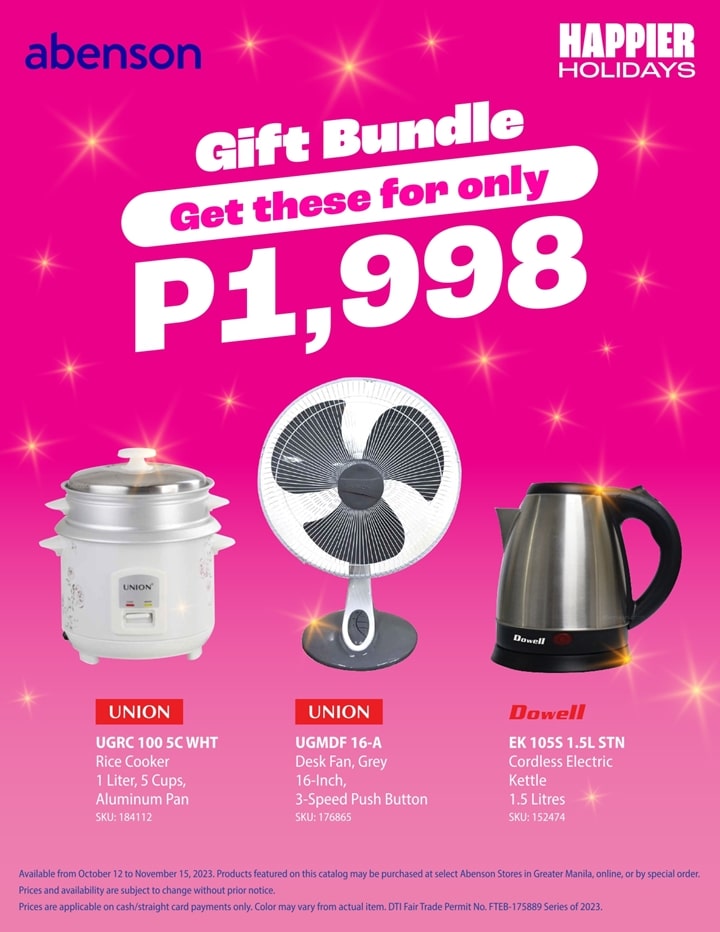 Give the gift of practicality this holiday season. The Gift Bundle includes a 5-cup Rice Cooker, a 16-inch Desk Fan with three-speed buttons, and an Electric Kettle with a cordless base for fast and easy water heating.
Home Bundle
Want to get a lot in just one bundle? Look no further with the Home Bundle that includes five appliances for just P2,998!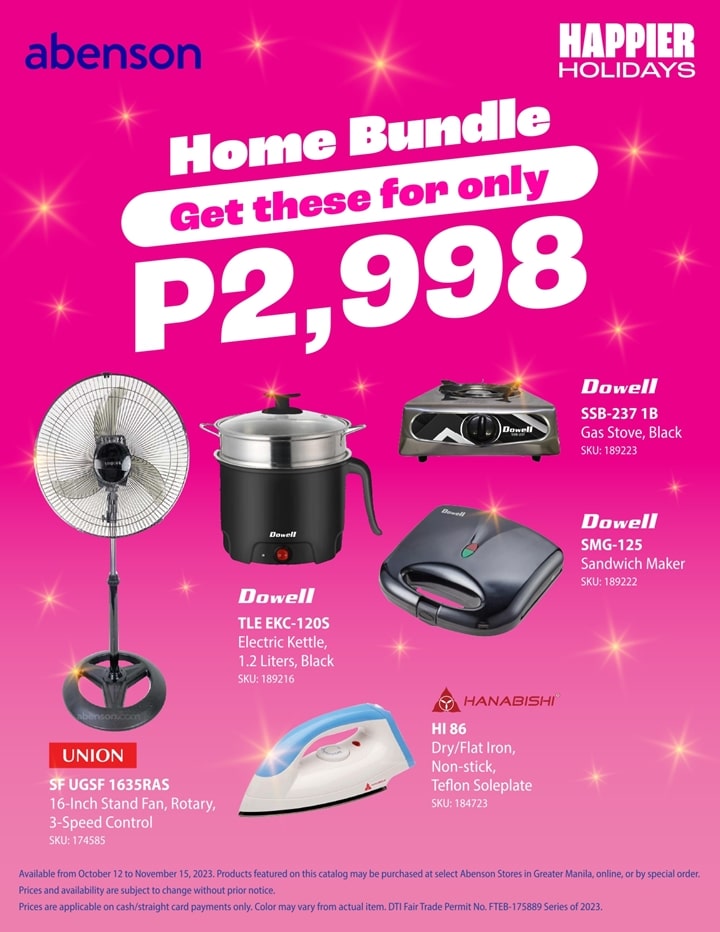 The Home Bundle includes a trusty 16-inch Stand Fan, a 1.2L Electric Kettle, a Single Burner Gas Stove, a nifty Sandwich Maker, and a Teflon-plated Flat Iron. This is instantly a great starter pack for adulting!
Giveaway Bundle
Christmas is not complete without giveaways! Ideal for company events, the Giveaway Bundle packs four popular appliances for just P4,998.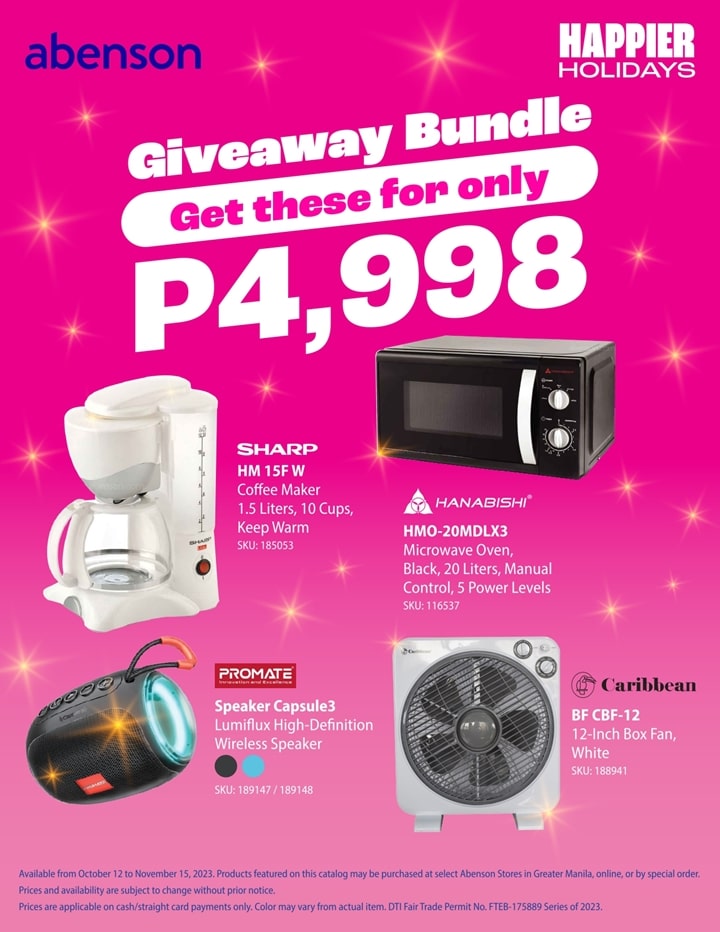 Everyone will be happy to join your giveaway because this bundle includes a 10-cup Coffee Maker, a 20L Microwave Oven, a 12-inch Box Fan, and a pumping Wireless Bluetooth Speaker!
Raffle Bundle
For this year's Raffle Bundle, you can share the blessing of contemporary appliances for only P9,998!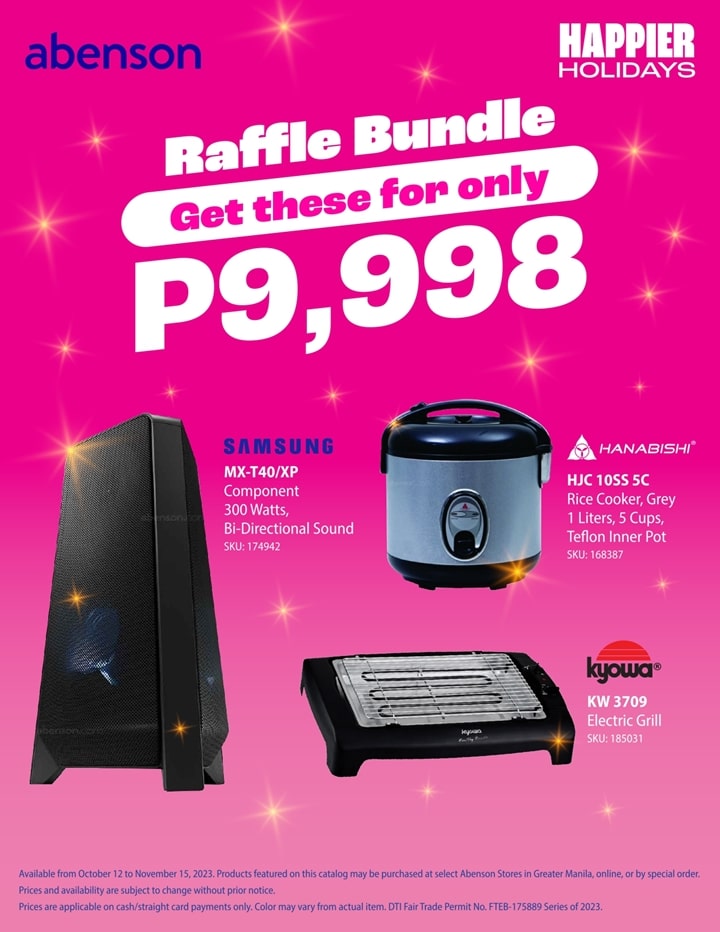 Who wouldn't want a Sound Tower Speaker paired with a Jar-type Rice Cooker and an Electric Grill? 😱
Lifestyle Bundle
What if you wish to spoil yourself? Coz, come on, you deserve it! For only P9,998, you can already elevate your quality of life with this Lifestyle Bundle.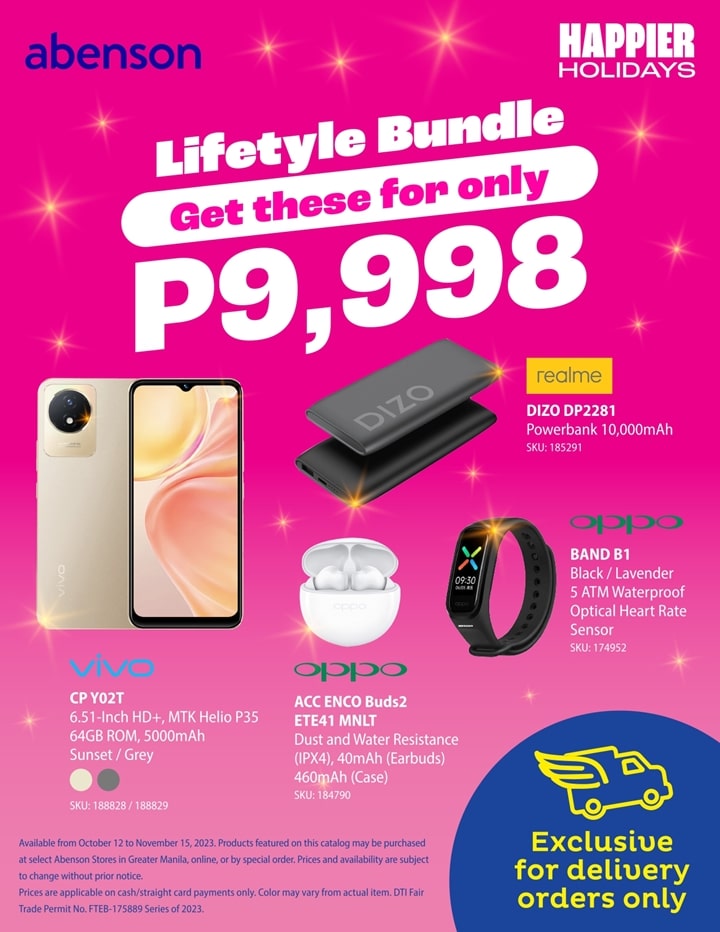 The Lifestyle Bundle includes modern necessities like a Smartphone, Wireless Earbuds, a Fitness Tracker, and a 10000mAh Powerbank to juice them up on the go!
Gadget Bundle
Enjoy next-level on-the-go entertainment with the Gadget Bundle for just P14,998!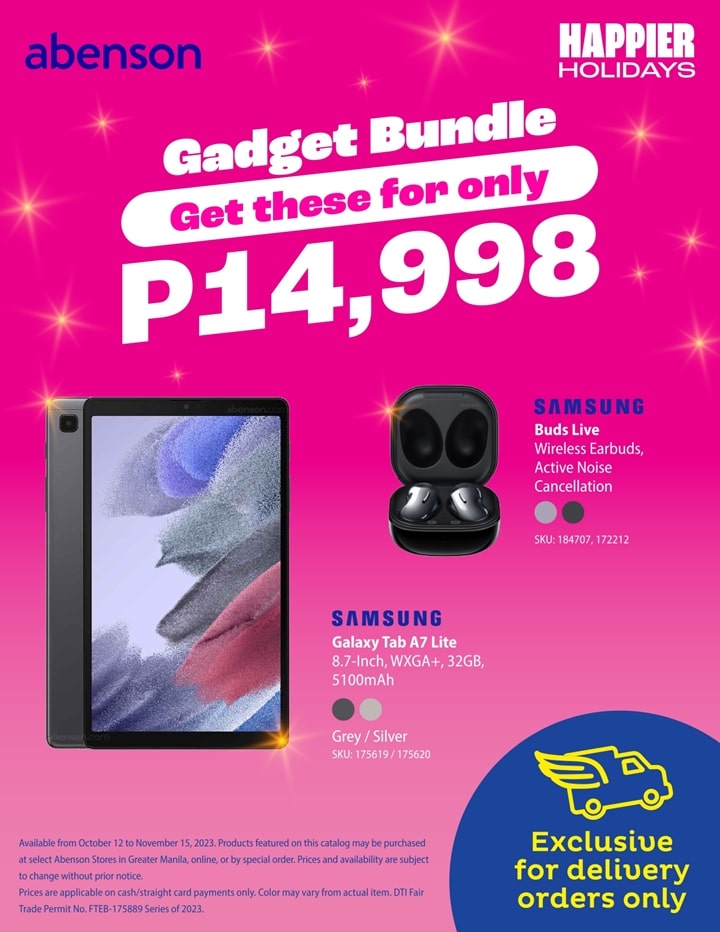 For the affordable price, you'll take home a perfect pair of Samsung 8.7-inch Tablet and Samsung Galaxy Buds Live!
Entertainment Bundle
Stay-at-home entertainment is your jam? The Entertainment Bundle, priced at P14,998, has got you covered!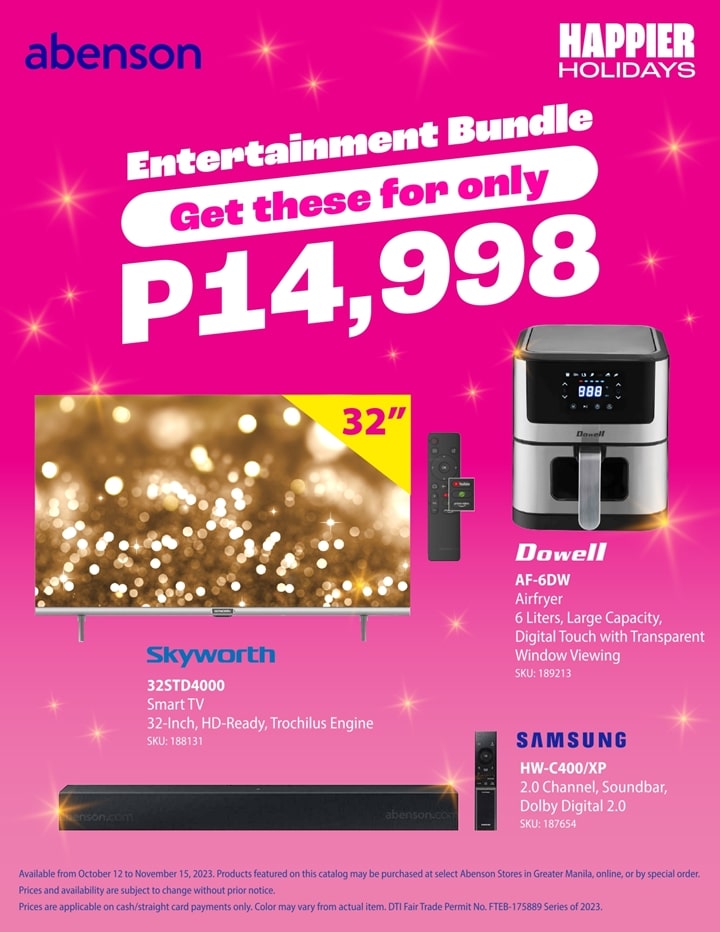 Enjoy the latest flicks on your own 32-inch Smart TV paired with a Soundbar! Moreover, get to cook tasty finger foods with the included Digital Airfryer.
Homecation Bundle
For the ultimate vacation at home this holiday, the Homecation Bundle won't disappoint!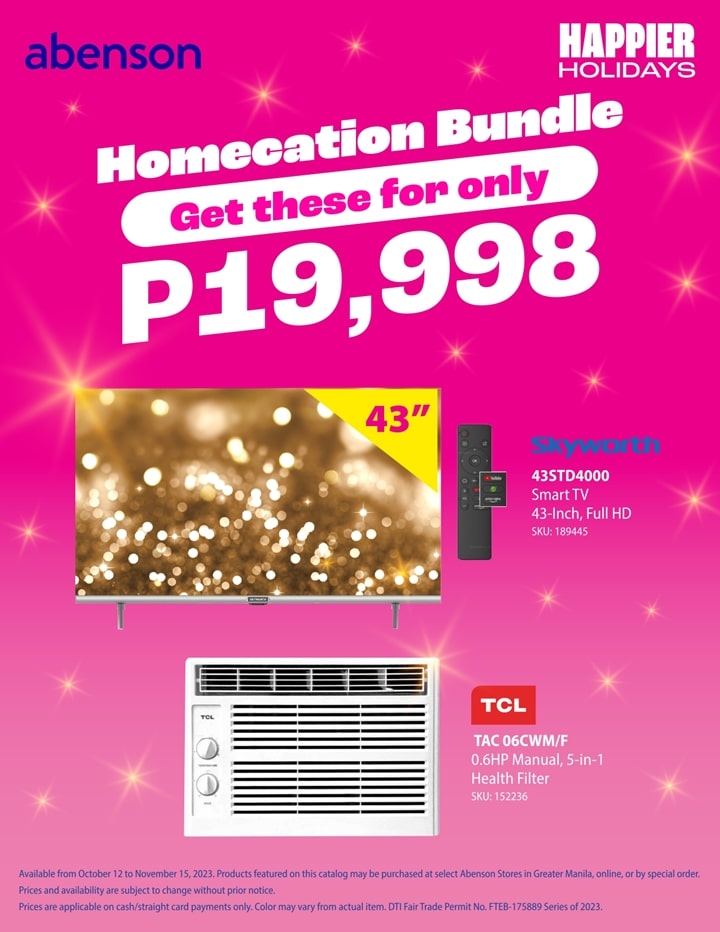 For P19,998, this pairing will cool you down with a 0.6HP Manual Aircon and keep you entertained with the 43-inch Smart TV!
Buy 4, Get 1
Check out these items that are a part of our exclusive Buy 4, Get 1 promotion if you want to gift comparable items. This is perfect for company raffles and party giveaways!
Buy 9, Get 1
Why stop at four when you can get more? Buy 9, Get 1 FREE on these select appliances, home accessories, and gadgets!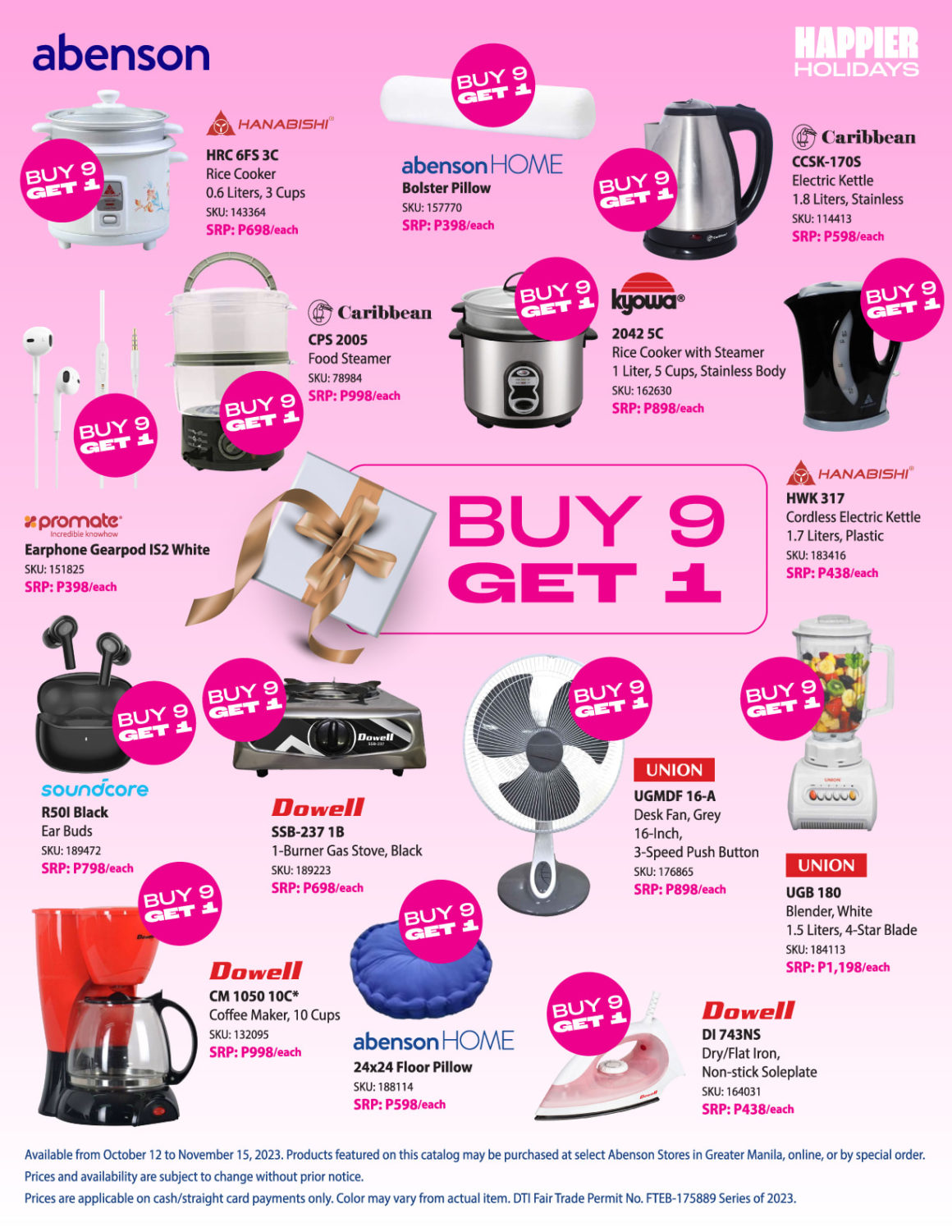 Visit your favorite Abenson store today and shop for these amazing Holiday Bundles. For the updated locations of over 150 Abenson stores nationwide, check out the official directory here: abenson.com/open-stores.
These incredible bundles are also available for purchase online at abenson.com. To view all of the online bundles and offers that are available, simply click the blue button below. 👇
Disclaimer: Prices on this article are based on the time of publishing. Prices may differ online or in-store and up-to-date prices will reflect at abenson.com.
---
---
Like us on Facebook (fb.com/abensonappliances)
Follow us on Instagram (@abensonph)
Visit our online store at www.abenson.com