You don't need to be tech savvy to love high-tech gadgets and appliances. With Tech me out, we will learn together about gadgets and appliances that will surely make our life easier!
I hate washing the dishes. As someone who works from home, minor chores become major especially if you have a series of meetings and serious deadlines. I know you would agree when I say washing the dishes can be a heavy task.
If you have the same problem as I do, stop worrying because Abenson has an answer to that. I tried and learned to use the Toshiba Countertop Mini Dishwasher.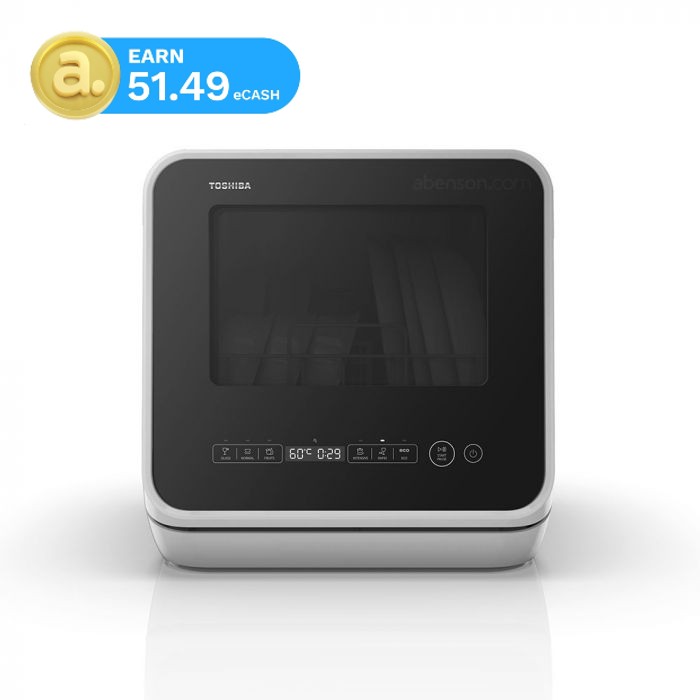 Toshiba DWS 22APH(K)
NOW: P20,595
SRP: P24,195
42cm Countertop Dishwasher
Built-in Water Pump
Rapid Wash
6 Preset Wash Programs
Right now, you might be thinking, this mini dishwasher will take up too much space but NO. Here are the dimensions of the Toshiba DWS 22APH(K): 43.5 cm x 42 cm x 43.5 cm and 16kg.
I'm not good at math but even you would know that this mini dishwasher is compact. Grab your tape measures and see if it fits your countertop. 📏
Aside from the inlet pipe, this countertop dishwasher comes with a pitcher to guide you on how much water you need to fill it up. After filling it up with water, you need approximately a tbsp of powdered dish soap which is good for one full wash.
You might be wondering how many dinnerware, utensils, and glasses it can fit. It depends on how good you are at stacking dishes. Here's a list of what I was able to wash: 2 dinner plates, 2 glasses, 3 coffee mugs, 2 sets of utensils, and a bowl.
This countertop mini dishwasher has 6 wash modes. Here are their corresponding power consumption:
| | |
| --- | --- |
| GLASS | 0.42 kWh |
| NORMAL | 0.5 kWh |
| FRUITS | 0.15 kWh |
| INTENSIVE | 0.57 kWh |
| RAPID | 0.34 kWh |
| ECO | 0.47 kWh |
Do note that I rinsed the dishes before loading them in to get rid of huge food particles. I don't want to risk any clogging inside the drainage system.
I used the Rapid wash mode which lasted for 30 minutes and I was surprised with how clean the dishes are after the cycle.
My Tech Takeaway
This mini dishwasher is empowering! The Toshiba Countertop Mini Dishwasher saved me a lot of time and energy. I was able to focus more with work and I was able to give more attention to self care. By self care I mean watching Kdrama and snacking. 😉
The power consumption is not that bad either at approximately 6 pesos for 2 washes, this mini dishwasher is really a great investment.
Get the Toshiba Countertop Mini Dishwasher and earn eCash with Abenson Rewards. 🪙
There's no problem with washing the dishes by your hands, but now that we enjoy working from home, invest in appliances that empowers you to focus on work and lets you have more time to yourself.
Disclaimer: Prices on this article are based on the time of publishing. Prices may differ online or in-store and up-to-date prices will reflect at abenson.com.
---
---
Like us on Facebook (fb.com/abensonappliances)
Follow us on Instagram (@abensonph)
Visit our online store at www.abenson.com