Are you shopping for a new Aircon but you're not sure which type to get? In this quick guide to looking for the right Aircon type, we'll help you choose whether you need a Window, a Split, or a Portable Type.
Let's begin! 🙌
For small rooms like the bedroom…
… a Window Type Aircon will suffice and it's easy to install. Most condos and apartments already have provisions for Windows Type Aircons, making it ideal for people who are just renting.
For bigger spaces like the living area…
… you should install a Split Type Aircon to fully cool the area. Known for their quiet operation, Split Type Aircons are ideal for rooms where people gather and spend quality time.
If you can't do installation…
… a Portable Aircon will suffice for small rooms. Since Portable Aircons are easy to set up, it can be easily moved from one room to another.
SEE ALSO: Easily set up your Portable Aircon in just 4 steps
Let's talk about Horsepower
Aside from having different types, Aircons also differ in capacity. You must have heard about horsepower (HP) when shopping for Aircons and it's very important to have enough HP for your room. The higher the HP, the stronger the unit is in cooling the room. ❄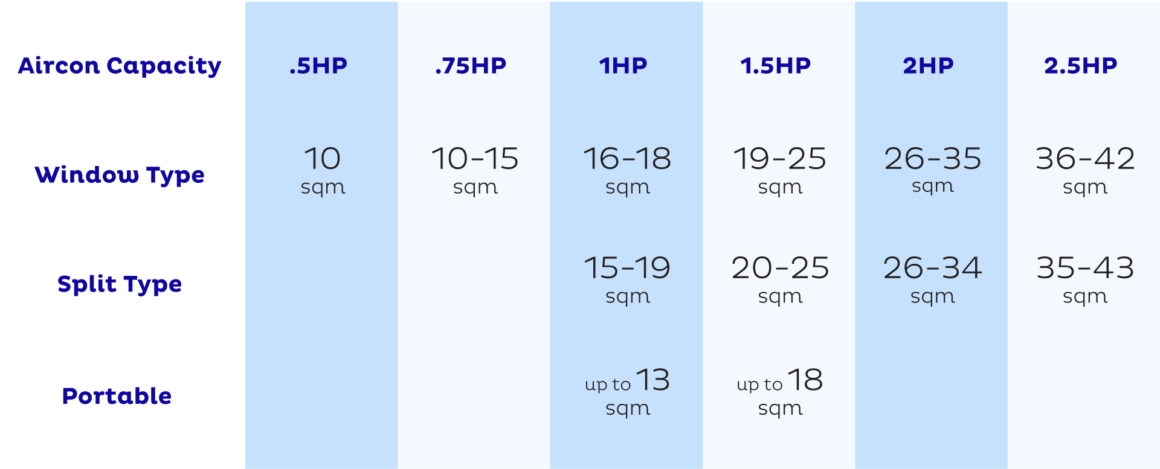 There are many factors that you need to consider when choosing the right capacity for your room like…
Room's exposure to sunlight
Other appliances inside the room
Desktop PCs and other computers in the room
The number of people who will be staying in the room can also affect the time it takes to cool a room. If there are multiple windows and your curtains are pretty thin, it'll take some time to cool the room as well.
That being said, it's recommended to upgrade one capacity higher if your budget permits. Having a more powerful aircon for your room means you're also prepared for the summer heat! Aircons last for years, so it's best to future-proof your investment. 👌
Ready to buy your new Aircon? It's time to shop online at abenson.com! A wide selection of Air Conditioners from trusted brands are available at your fingertips and ready for delivery. Professional installation services are also available online — no need to book separately.
---
---
Like us on Facebook (fb.com/abensonappliances)
Follow us on Instagram (@abensonph)
Visit our online store at www.abenson.com